In 2002, when our founders, Todd and Brandon, began mixing green drinks for their friends and co-workers, they began tapping into a movement that rejects factory-based farming in favor of organic, sustainable practices whose goal is to leave the earth better than when we found it. What began in 1946 on Brandon's family farm in Kansas has now become a network of small farmers across the country, all dedicated to growing the highest-quality organic, non-GMO fruits and vegetables. Together, we're helping people lead healthier, more active lives through organic, plant-based nutrition.
We offer 100% natural whole food products with abundance of flavour options to satisfy everyone's taste buds  while making them feel amazing every day.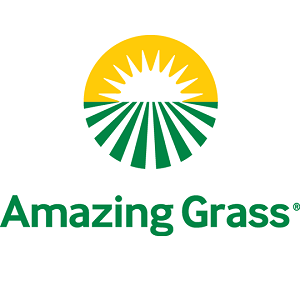 In our UK product range we have:
Green Superfood Powders – a super-blend of greens, fruits, veggies and superfoods (6 different flavours, available in 240g tubs and 15x 8g single-serve sachets)
100% Organic Wheat Grass Powder – Slow growth, tips only premium quality wheat grass, harvested once a year, nitrogen packed and stored frozen for maximum nutrient potency – offers 10x nutrition compared to tray grown wheat grass (available in 240g tubs and 15x 8g sachets)
Protein Superfood Powders – all-in-one vegan grain-free protein blend with greens, fruits, veggies & superfoods (available in 350g tubs and 10x 29g single-serve sachets)
Raw Reserve Powders – a premium blend with greens from land & sea and 25b probiotic cultures (available in 240g tubs and 15x 8g single-serve sachets)
We are also launching some new exciting products in the near future – look out for Amazing Grass news in The Health Store, Three of Life and CLF catalogues!