Celtic Wind Crops are an Irish based company formed in 2012.
Our business is based around the Hemp plant and harnessing its ability to feed, clothe, shelter and give health in order to create a sustainable future.
We have been selling our multi complex CBD Oil for over three years in Pharmacies and Health stores across the UK and Ireland.
We produce our products by our own unique cold press technique; this means it remains one hundred per cent natural; containing all of the plant's goodness as well as CBD.
We are vertically integrated, owning the whole process from seed to shelf. The hemp we cultivate is organically grown in selective microclimates in Ireland where CBD thrives naturally in the plant.
CBD tinctures:
2000mg CBD
1500mg CBD
1000mg CBD
500mg CBD
300mg CBD
CBD powder:
1600mg CBD
CBD Capsules:
1200mg CBD
Canna-Curcumen
Canna-Mag
Canna-Sea
---
Celtic Wind Crops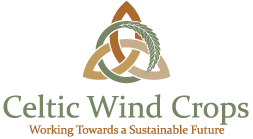 Malta House
Sean O'Carroll Street
Ardee
County Louth
Ireland
Telephone: 07367 461701
Email: gareth@celticwindcrops.co.uk
Website: www.celticwindcrops.com