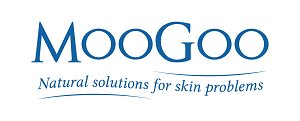 We are MooGoo, an Australian Natural Skin Care company, who make a range of natural and gentle products, using effective ingredients and no gimmicks. MooGoo is designed for babies and adults, with extremely sensitive skin.
The only things you will  find in our products:
Effective natural ingredients
Edible ingredients (not that they taste nice!)
Non-irritating ingredients
• Effective moisturising oils and extracts • High concentrations of the best quality.