3 October 2021, Kimpton Clocktower (formerly known as The Principal Hotel), Manchester
Where the independent health food trade comes together
100+ exhibitors, round table discussions and networking
3 October 2021, Principal Hotel, Manchester
Exhibition
Over 100 exhibitors dedicated to independent health food retailing, all showcasing their new product launches and show-only deals and discounts
Round table discussions
We've invited retail experts to grow your knowledge in an environment dedicated to learning
Networking
Meet up with friends in the industry – old and new, with a free three course buffet lunch for every visitor

What is the Natural Health Trade Summit?
Returning to Manchester on 3 October 2021, the Natural Health Trade Summit is the go-to expo for independent health food retailers to meet, learn and do business.
Focusing on the theme of better business, the Summit includes 100+ exhibitors, informative round table discussions tackling the hottest retailing topics and plenty of time to network with like-minded retailers and suppliers.
Registration is completely free for all retailers and includes a free buffet lunch, free welcome drinks reception, a free goody bag, discounted hotel rates and more.
Organised in association with: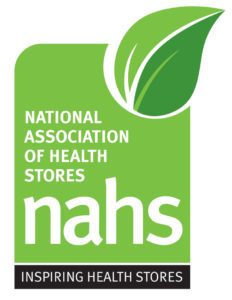 Who should attend?
If you're an independent health food store owner, buyer or employee – you should join us at the UK's only event dedicated to your business.
Register Free
Registration is completely free for anyone involved in the independent health food trade.
"Home after an amazing #nhtsummit – it was so good to meet so many lovely likeminded people and brands"
"I enjoyed being able to see different products all under one roof, being able to taste different things."
Kathryn Gemson
Good Health, Clitheroe
Julie Goodwin,
Natural Health, Hertford
The Natural Health Trade Summit is organised by Target Publishing, publisher of Health Food Business, Natural Lifestyle and Naturally Good Health magazines.
Head office
Target Publishing Ltd, The Old Dairy, Hudsons Farm, Fieldgate Lane,
Ugley Green, CM22 6HJ, UK
Telephone
Email
Organised by the publisher of

Hours
Mon: 9.00 – 17.30
Tue: 9.00 – 17.30
Wed: 9.00 – 17.30
Thur: 9.00 – 17.30
Fri: 9.00 – 17.30
Sat: Closed
Sun: Closed